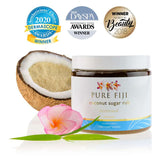 Renew and revitalize dull, dry and dehydrated skin with this natural exfoliation and extraordinary moisturizing treatment from the pristine islands of Fiji. Fresh sugar cane crystals containing naturally occurring alpha hydroxyl acids gently buff away dead skin cells, polish your skin clean and unclog pores. A blend of cold pressed virgin coconut oil and exotic nut extracts combine to nourish and seal in moisture to reveal softer, smoother, glowingly healthy beautiful skin.
Benefits
Ideal for all skin types this generous 16 oz. jar will give 15-18 treatments.
Two-in-one exfoliating product excellent for all-over-body use.
High in antioxidants and vitamins A, B, C & E
BOTANICAL OIL BLEND - Our award-winning organic oil blend containing cold-pressed Virgin Coconut, Macadamia, Sikeci and Dilo oils hydrate and nourish skin with vital nutrients – Vitamins A, B, C and E and Omegas 3, 6, 7 & 9. High in Antioxidants.
SACCHARUM OFFICINARUM (Cane sugar) - Cane sugar contains glycolic acid, a natural AHA that exfoliates smoothing away dry/dead skin cells leaving skin looking smooth and radiant.
How To Use
One scoop spread evenly over body
Massage in until it turns to honey
Leave on for 10 minutes for maximum benefit, then rinse