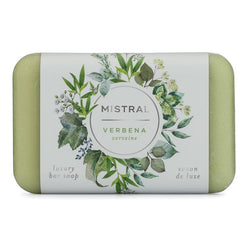 Mistral
Verbena Classic Bar Soap
Crafted according to a time-honored French tradition. Made with natural and organic ingredients and original perfumes from Grasse, France, these triple-milled bar soaps are long-lasting, luxurious and exquisitely fragrant.
This invigorating clean fragrance, with hints of mint, lime, marjoram, and flowering jasmine, evokes the fresh radiance of summer. Verbena is one of the most energizing scents for a morning wake up. Experience one of our most popular soaps, ultra-rich Verbena French soaps, handcrafted in Provence.
FEATURES:
Pure organic shea butter
Gentle and moisturizing for dry, sensitive skin
French milled soap for long-lasting use
All vegetable French soap
While showering, lather up, rinse, towel off…embrace life.