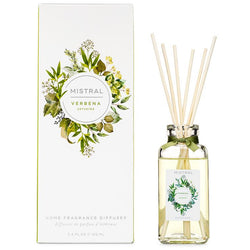 Mistral
Verbena Classic Diffuser
This lively reed diffuser pleasantly infuses any space with your favorite Mistral scent.
Verbena:
Our energizing blend of summer verbena, Mediterranean citrus, mint, and white musk captures the golden warmth of a Provencal garden.
FEATURES:
100% Oil-based
Alcohol-free
Long-lasting
Non-bleached reeds
Recyclable glass
Open bottle and remove cork. Insert reeds into oil. The reeds absorb the fragrance and subtly distribute it throughout the air, providing lasting, beautiful scent. Customize the intensity by flipping the reeds — flip every day for more intense scent or once a week for more subtle fragrance.